---
Black hills Glass works Has Relocated too Cannon Falls, mn
---
Welcome To Black Hills Glass Works . Com
We specialize in designing and creating unique stained glass bird houses and stained glass bird feeders. Each stained glass bird house and stained glass bird feeder is carefully constructed using only the best materials available. We pay close attention to detail and provide many features that run of mill bird houses and bird feeders lack. We incorporate proper ventilation, adequate drainage and a design that is meant to attract certain wild birds. Although each bird house is designed for a particular bird, a different species of wild birds may choose to nest therein. We don't mind that at all. We love our feathered friends and take pride in the bird houses and bird feeders we make for them. Please check out our product line. We make the most beautiful and functional stained glass bird houses and stained glass bird feeders you'll ever find. They make a wonderful gift as well as a fine addition to anyone's back yard, garden or display shelf. Our stained glass bird houses and stained glass bird feeders will give you years of enjoyment, "Bird Watching"! Designs and inventory are constantly growing and changing. Come back often to check for updates and new arrivals. Thanks for visiting BlackHillsGlassWorks.Com
---
---
Black Hills Glass Works
Contact Information
For information please contact
Mark Fobaire
Telephone
(605) 644-6117
Postal address
8701 295th Street East Cannon Falls, Minnesota 55009
Electronic mail, General Information
sales@blackhillsglassworks.com

Bird Houses and Bird Feeders
Listed Below is a 1928 Advance Gumball Machine looks and works like new this will be listed on the Gift Shop Page.
Classic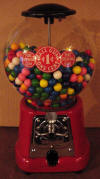 Above is a 1928 Advance Gumball Machine Excellent Condition!
---
Our Profile
We are located in Cannon Falls, MN We did move away from the black hills. It has been many years since we made our first birdhouse & our first Birdfeeder! We are very happy with the demand for our products! We strive to make the best stained glass bird house and stained glass bird feeder you can find! We use the best supplies available! Our Copper roofs make our stained glass bird feeder and stained glass bird house outlast most others! We hope to have you as a customer for many years to come.
---